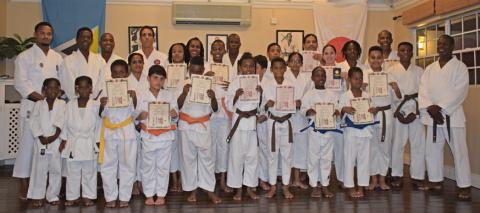 The Belt Ceremony for the 56th SLSKA/IKD Grading Exercise, which was held on Saturday 7th, 2018 at the Gros Islet Secondary School Auditorium, was conducted tonight Wednesday 11th July 2018 at the SLSKA Honbu Dojo - Kevala Taj Dojo on Rodney Bay, situated at the Conference Room of the Harmony Suites, Flamboyant Drive, in Rodney Bay.
The Grading Exercise (exams) was the 2nd in a three annual examination for members of the SLSKA, was conducted by Sensei Patrick A. Edward - 5th Dan, Chairman & Resident Chief Instructor of the SLSKA and assisted by, Sensei Claude Bascombe Jr.-5th Dan, Instructor Seishin Karate Club, St. Vincent & the Grenadines, at the Gros Islet Secondary School Auditorium. They were also assisted by Kenshusei (Instructor trainees: Jerome Girard & Collin Huskinson - 3rd Dan & Randall Bain - 2nd Dan.
15 members of the organization participated in this Kyu (colored belt) examination from 10 Kyu (white belt) to 1 Kyu (brown belt)
The activity this evening was graced with the presence of two Guest Instructors in the persons of: 
Sensei Anthony Joseph - 7th Dan, from Cayanne, who presented the participants with their IKD Rank Certificates &
Claude Bascombe Jr - from Svg, who presented participants with their new belts.
Also present at the event were Instructors & other rank & file members of the SLSKA, parents, relatives & friends/supporters.
The organization expresses its gratitude to everyone who contributed to the success of the activity.