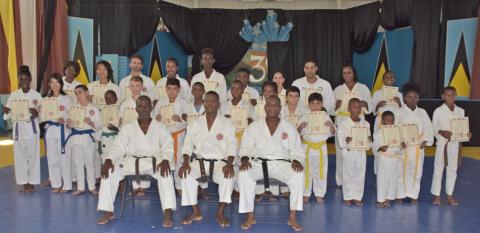 The head of the International Karate Daigaku, Shuseki Shihan Frank Woon A Tai, on his annual Caribbean tour conducted training seminars & grading exams for the local affiliate the St. Lucia Shotokan Karate Association. At the SLSKA's 55th Grading Exercise over 25 members  obtained higher grades in the IKD Rank System.
Kenshusei's of the SLSKA sitting the Judges Examination received the following qualifications Sempai Randall Bain to 2C and Senseis Jerome Girard, Lizana Ramkhelawan & Collin Huskinson to 3C Judges qualifications.
The outstanding performers at the 55th SLSKA /IKD Grading Exercise were:
Collin Huskinson from Nidan - Sandan 3rd degree Black
Domingo Ramos from 4 - 2Kyu Brown
Megumi Kawaguchi from 4 - 2Kyu Brown
Amelia Huskinson from 4 - 2kyu Brown
Leiff Escalona from 4 - 2Kyu Purple
Quetin Smith from 6 - 4Kyu Purple
Saori Iwashita from 7 - 5Kyu Blue
Brice Barrick from 7 - 5Kyu Blue

The IKD follows a Ranking System that recognises a 10 Kyu (rank) system.
10 Kyu - white
9 Kyu - white with yellow stripe
8. Kyu - yellow
7. Kyu - orange
6 Kyu - green
5 Kyu - blue
4. Kyu - purple
3. Kyu - brown
2. Kyu - brown
1. Kyu - brown